Cornerstone Concrete LLC was formed in 1989 by the Lecy family, providing quality residential concrete driveways to the greater Hudson, Wisconsin communities. While the concrete driveway experts started in Minnesota, they have since expanded their reach to Wisconsin, including: 
New Richmond, WI
Hammond, WI
Prescott, WI
Ellsworth, WI
Roberts, WI
Somerset, WI
Boardman, WI
River Falls, WI
All the crews were very professional and knowledgeable. They were also very easy to communicate with in regard to all our questions. They consistently fulfilled the goal of doing all their work heartily, as for the Lord.
Our Proven Residential Concrete Driveway Replacement and Installation Process
We have factorized the process of replacing and installing a new concrete driveway. Systematically, one crew at a time flows through the concrete installation process, performs their duties at an expert level and then moves on to the next driveway. Below, in chronological order are our five crews:
Tear Out Crew (Replacement)
While our concrete driveway installation and replacement processes are proven, we know the Hudson and Somerset, Wisconsin winters are not always kind to concrete. With proper care and maintenance, your driveway will last for 25 – 30 years. However, if you do see cracking, we offer a warranty on your finished project. Learn more on our Contact Us page!
Things To Do In Hudson, Wisconsin While Your New Concrete Driveway Cures
It is well-known that after concrete is poured, it needs to dry. The Cornerstone Concrete team promises that your job will be done in 5 days time; weather permitting and with the exception of 1,200 sqft, including set up, pouring, and cleaning. However, you must wait 24 hours after it's poured to walk on your new driveway, and 10 days to resume driving/parking. While you wait for it to dry, Hudson, Wisconsin offers a few fun attractions to help pass the time, including:
Willow River State Park
Phipps Center for the Arts
Historic Octagon House Museum
Cracked Barrel Winery & Vineyard
and more!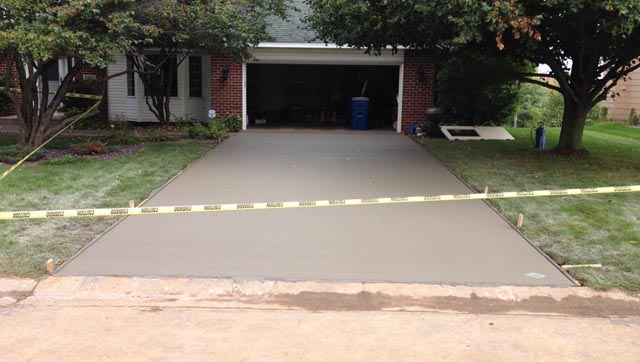 The Cornerstone Concrete family always works diligently to deliver a superb concrete driveway that will last for decades, even through those Wisconsin winters! Our customers always come first and are treated with respect and honesty. 
Are you ready to get started on your concrete driveway? Give us a call at (612) 325-3742 or request a free estimate to the right.