Cornerstone Concrete LLC was formed in 1989 by the Lecy family, providing quality residential concrete driveways to the greater Hudson, Wisconsin communities. While the concrete driveway experts started in Minnesota, they have since expanded their reach to Wisconsin, including, but not limited to: 
New Richmond, WI
Hammond, WI
Prescott, WI
Ellsworth, WI
Roberts, WI
Somerset, WI
Boardman, WI
River Falls, WI
Our Proven Residential Concrete Driveway Installation and Replacement Process
We have factorized the process of installing and replacing a concrete driveway. Systematically, one crew at a time flows through the concrete installation process, performs their duties at an expert level and then moves on to the next driveway. Below, in chronological order are our five crews:
Tear Out Crew (Replacement)
While our concrete driveway installation and replacement processes are proven, we know the Hudson and Somerset, Wisconsin winters are not always kind to concrete. With proper care and maintenance, your driveway will last for 25 – 30 years. However, if you do see cracking, we offer a warranty on your finished project. Learn more on our Contact Us page!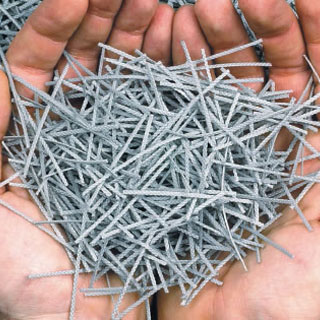 There's a Stonger Material in Town: Macro Synthetic Fibers
Macro Synthetic Fibers are the newest, and now strongest, material available. Over the past decade engineers and scientists have been looking for a different concrete reinforcement material that would be stronger, more affordable, and less labor intensive. Macro Synthetic Fibers were the answer! These little fibers mix right into the concrete mix, allowing for more strength to spread throughout the concrete slab; top to bottom left to right. Whereas rebar or steel offers the most strength at the bottom of the slab where the rebar grid lays. These little fibers do not look like much but offer a stronger, longer-lasting concrete driveway that will crack less, even under adverse weather conditions. Learn more about our macro synthetic fiber reinforced concrete driveways by reading our new blog!
Don't Only Trust Us, Trust Our Customers

We had our driveway and sidewalk replaced by Cornerstone Concrete. We are very happy with the results. We had six companies bid on the project and the costs varied widely between bids. The Cornerstone bid was reasonable and they offered a number of financing options that we took advantage of. The tear out and installation process was very smooth. They have young crews but the supervisors are skilled and experienced. Communication was great except for one email we didn't get reply to. They provide an app on your phone that allows you to track the work schedule and follow-up. I strongly recommend Cornerstone.
Cornerstone Concrete was very easy to work with. They were able to give us a nice driveway despite having to change the initial design due to permit issues. I would recommend them to all my family and friends.

The Cornerstone Concrete family always works diligently to deliver a superb concrete driveway that will last for decades, even through those Wisconsin winters! Our customers always come first and are treated with respect and honesty. 
Are you ready to get started on your concrete driveway? Give us a call at (612) 325-3742 or request a free estimate to the right.