Why Install a Concrete Driveway?
In your research, you'll see you have several options available such as asphalt, gravel, cement, and concrete. Each material has its own pros and cons, but perhaps the most popular of all is concrete, and for very good reasons.
Converted from an asphalt driveway to concrete. Cornerstone did a great job from start to finish. They were very prompt with a response for a quote and did fantastic work all around. All workers were respectful of my property and cleaned up after themselves each day of work, and overall they just did an amazing job. I would definitely recommend Cornerstone to anyone who needs concrete work done.
Concrete Driveways Built to Last
Driveways are exposed to the elements 24/7. The weather can be tough on any kind of driveway anywhere but can be especially consequential in Minnesota and Wisconsin with harsh, freezing winters; contrasted with hot, humid summers. The ground and the concrete are cycling through expansion and contraction phases like no other region. This means that driveways can become cracked and damaged if they were not properly installed up to industry standards. Our installation contractors at Cornerstone Concrete LLC specialize in concrete driveways and go above and beyond industry standards as we install your new concrete driveway or replace your old one, so your driveway can be with you for generations to come.
Cornerstone Concrete is a very professional company. I shopped around for the best quality and cost. They were reasonable and constructed my driveway exactly as promised.
Concrete Driveways are a Better Investment
If you have had estimates done, you may have been told that concrete will be more expensive than asphalt. Considering the durability of concrete, however, it makes for a more cost-effective investment in the long-run. In addition to being able to withstand those harsh Minnesota winters, concrete is also able to take on very heavy loads. Driveways made from materials like aggregate or asphalt might have difficulty coping with particularly heavy vehicles.
Some people might also comment that concrete is not as appealing as other types of driveways. This is not necessarily the case. If done right, a concrete driveway can be very aesthetically pleasing with a smooth gray tone, stamping, or another desired color. There is some room for creativity to help ensure you get a concrete driveway replacement or installation that you love. Our team is dedicated to laying a driveway that is not only functional but also aesthetically appealing!
Concrete Driveways Are Low Maintenance
Some driveways can be very difficult to maintain, particularly those made with loose aggregate. Whereas, concrete needs only a little more than the occasional sweep with a stiff broom. At Cornerstone Concrete we will apply a sealant to the surface of your new concrete driveway. This sealant helps to make maintenance easier and quicker, while also helping to increase durability. We are specialists in concrete driveway installation and replacement, materials, sealants, driveway enhancements, and everything in between, to help you make the right decision for your home.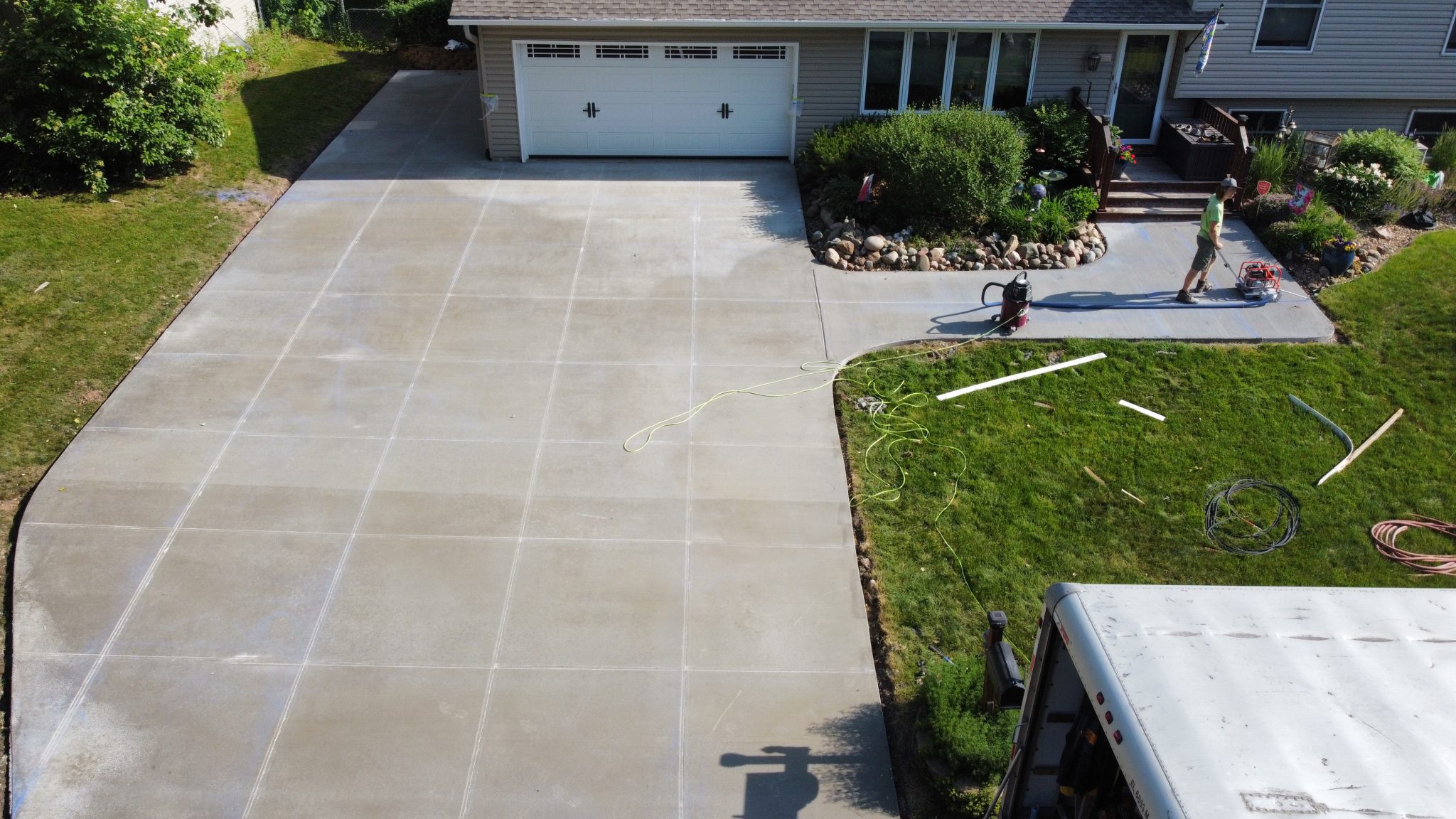 Are you ready to get your concrete driveway installed?
Request an estimate today!
The Cornerstone Difference – Our Proven Concrete Installation Process
We have factorized the process of replacing and installing a new concrete driveway. Systematically, one crew at a time flows through the concrete installation process, performs their duties at an expert level and then moves on to the next driveway. Below, in chronological order are our five crews:
1. Tear Out Crew (Replacement)
Ready for the Residential Concrete Driveway Experts to Come to You?
While we would love to pour concrete driveways all over the country, unfortunately, our trucks and crews can't travel too far away.
The Cornerstone Concrete business started in St. Paul, Minnesota, and has since expanded to Wisconsin. Check out our local service areas to see if we can bring our crews out to you.
Do you have specific questions about your project?
Contact us to learn more!